Series I part I(Featured on an article post by @AnnTran_ 10 #Bloggers Share Their #2012 #Blogging Formula http://bit.ly/wLaIZK #tips #digital@24Notion @MsSonicFlare)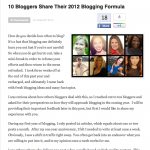 Most recently, one of my dearest client just asked if we could help them on getting strategy and implementation in place for blogging for their corporate communications department. He asked if there is any magic formula to any successful blogs out there. Although, there isn't any magic formula in developing a successful blog per say. There are best practices that you might want to implement. First and foremost, you need to know your overall strategy. Then, try to keep it up by creating an editorial calendar that essentially will build up your content throughout the duration of your blog strategy. Get a system going and do blog at least once or twice per week. Did you know that as of August 2011, there are estimated over 164 million blogs out there?
Here are more facts and data:
27% of bloggers are full time bloggers
The U.S. has about 49% of the blogging population worldwide
5% of the blogs are business-focused and 14% are focused on technology or Internet marketing
Traffic sources: 41% Search Engines, 28% Social Media, 20% Referring Sites
Two-thirds are male
60% are 18-44
75% have college degrees
40% have graduate degrees
Here are my top 5 tips to keep in mind on blogging:
Be authentic
Write from the heart
Passionate about your topic
Don't try to ramble too much, just get to the point.
Edit, edit, edit
Have fun
Interesting fact! By looking at the statistics, we need more women bloggers out there. Come on ladies, let's help on balancing that number out. Together, we could be on a forefront in engaging our audience together.
If you need additional tips or help, please contact Ivo Lukas
Ivo leads all digital/creative/Marketing/Social PR agency, 24Notion, ranked #23 by Business Journal – Book of List 2012 on Corporate Philanthropist. To learn more go to http://www.24Notion.tv | be a fan Facebook.com/24Notion or follow her @MsSonicFlare