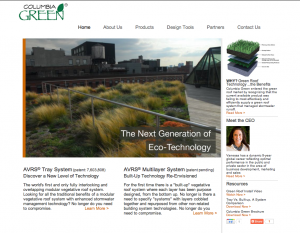 Most recently, 24Notion was challenged on revamping the whole new experience in digital marketing and user experience for Columbia Green Technologies that would create a multiple tier of functionality, user based centric, user experience and multiple platform of coordinated front and back end technologies. Columbia Green is an Eco-Technology Company. Columbia Green's core technologies are focused on vegetative roofs and are based on sustainable functions that help manage the quality/quantity of stormwater, energy use, and air/water pollution.  Cities across the world are using vegetative roofs to manage these environmental issues.  Columbia Green is a USA manufacturer-delivering product through domestic and international channels to meet those needs. Columbia green partners are firestone, malarkey and more
24Notion not only revamped the entire digital experience but also refreshed the entire branding and communications plan for Columbia green technologies.
Additionally, we created a customized brand and content management system platform. Plus, back end technologies that would be easy to navigate and scalable for content development.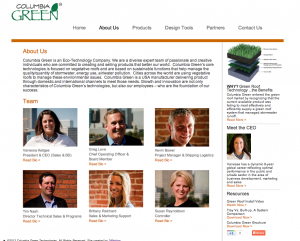 "The new branding, overall design and digital experiences reflect the overall company's objective as a whole. A clear, accessible, easy to navigate digital experience is revamped from a ground up with customer taste in mind" said Ivo Lukas, CEO/CCO of 24Notion. The content and visuals are merged into a collaborated effort to showcase the eco roof technologies IP products.  Phase I is completed and with the goal to move on to the second phase with more robust content and social experience as a whole.
Be sure to check out the site: http://columbia-green.com/
To learn more about 24Notion, drop us an email at info@24notion.tv
Follow us @24Notion or like us on Facebook