To say the senior students of the Art Institute of Portland can work it out is an understatement.  At last weekend's fashion show, the designs were fierce and the audience was impressed. The students played it cool by showing no signs of the blood, sweat, and tears that were put into the weeks of perfecting their interior designs, apparel designs, apparel accessories, and even fashion marketing skills – all that was visible to the audience was effortless creativity.
Not only was this a big night for the students of the Art Institute, but also for 24Notion, as CEO and founder Ivo Lukas revealed this years winner of a $10,000 scholarship.  24Notion is proud to give back and has even been ranked as Portland Business Journal's 23rd most philanthropic company.  The anticipation was heavy and the competition was stiff but right as the show started Ivo announced Amelia (Amy) Fuertes as this year's new scholarship recipient.  At the show, Fuertes' face showed it all, as she barely was able to whisper out a "gracias" from all the excitement!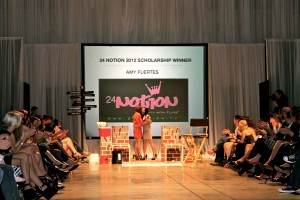 When asked why she chose Fuertes, Lukas responded, "She did it all – she does everything by herself, which is incredibly admirable.  To be control of the whole process, from the idea to execution, takes endurance and dedication."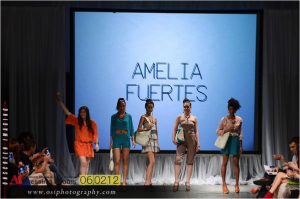 The fashion show and silent auction was a five-hour affair and so Nature's Tears, in cahoots with 24Notion, provided all the agitated eyes and skin a burst of hydration with their complimentary goody bags for the models, designers, VIPs and first 100 attendees!Needless to say, the goodies were snatched up quick, as a sigh of relief spread throughout the event's location, Pure Space in the Pearl District.
Overall, the fashion show was a fabulous event filled with fashion enthusiasts, incredible students, and even old friends.  24Notion invited VIP guests and clients/partners, ranging from the eco sustainable technology of Columbia green to apparel and footwear of Adidas – all came out to support 24Notion and AI fashion show. Did we not also mention that the students made 24Notion our own cutting-edge, one of a kind paper dress? Check it below!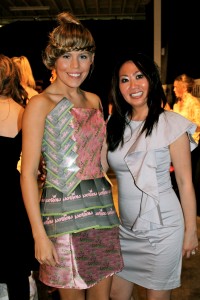 For more pictures of the night and information about Lukas' speech – like us on Facebook and follow us on twitter! We have pictures on pictures on pictures!