Now, you know that 24Notion is one socially minded company (refer to Portland Art Institute Fashion Show and Creative Arts Scholarship), but this week we decided to get even more social – in social media that is.
We started the week off by participating in the Portland Business Journal Social Madness Competition – a perfect opportunity for us to have some social media fun and give away $7,500 to a charity of our choice.   That amount of votes, tweets, statuses, mentions, and likes that came flowing in support for our efforts was overwhelming and we cannot thank you all enough!  Social media is taking over the world and 24Notion is so lucky to have fabulous supporters who help keep us ahead of the curve.  The competition had stiff competition with first-rate companies like The Clymb and the Oregon Culinary Institute and we were only a few votes away from snagging a top eight spot.  What can we say? We are just a social bunch here at 24Notion — #roundtwo #socialmadness #philanthropy #portalndbizjournal.
Amidst the social frenzy of PBJ's Social Madness Competition, our CEO and founder, Ivo Lukas, got a huge – and much deserved – shout out from our the fine men and women at ECwomen.  Lukas was mentioned in ECwomen's top 100 recommended women entrepreneur experts to follow on Twitter for May 2012.  We could not be more proud of our trusted leader and are excited to see where this new recognition takes her!  In case you have not had a chance to follow Lukas on twitter, follow her here (@MsSonicFlare) and see for yourself why Lukas is a top female entrepreneur to watch.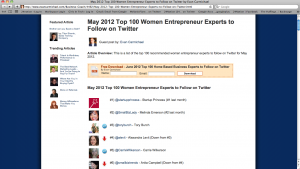 It has been a busy week here at 24Notion and it seems things are staying that way. Check back soon for more information about the #SizzlingMiamiTweetUp – 24Notion is a proud sponsor of the hottest Miami tweet up at the Mandarin Hotel.  Remember to follow us @24Notion and Facebook, as we will be giving away swag bags, door prizes and more!
Also, mark your calendars and join us at Career Tech Expo's presentation of Girls in Tech and our CEO, Ivo Lukas, at the FREE panel discussion on landing the perfect job at the Moscone Center in San Francisco on June 29th.