Welcome to 2012. We hope that you all enjoyed your holidays and had a wonderful and happy New Years celebration. We(@24Notion) definitely enjoyed our time off. We are happy to be back to get 2012 a head start!
We've done quite a milestone and accomplishment in 2011. One of the pivotal key on our milestone is the increase on our philanthropic effort. See release here Our total contribution in 2010-2011 rounded up to $186K( 20% increase from 2009-2010). btw, thanks to our rock star founder, Ivo Lukas, continued to support this cause.
This year, we will continue to branch out to make a difference in the global communities effort(charities/nonprofit organizations). Stay tuned for 2012 success story to come.
We've been busy on 2011, growing our agency as a whole. Check out our partial case studies(if you need to see full case studies, simply drop an email to: info@24Notion.tv).  Our branded entertainment & lifestyle effort has been growing tremendously(see below). From Fashion Week to American Country Awards; we've had a blast along the way(while giving back to the global charities). Simply put, our goal is to inspire one person at a time…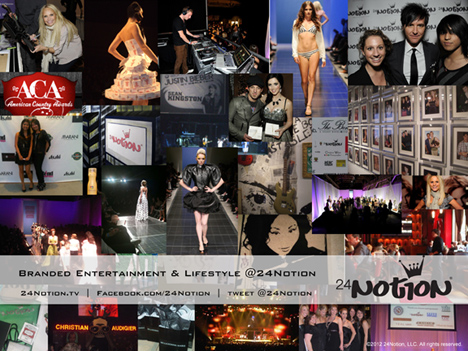 Interested in learning more about 24Notion, check out our site, follow us on facebook.com/24Notion and tweet with us @24Notion