Kevin Whinnery is an engineer and platform evangelist for Appcelerator. In addition to his contributions to open source and Appcelerator projects, Kevin is also the developer and maintainer of a Ruby on Rails student information system in use by several elementary schools in his home town of Saint Paul, Minnesota. A frequent speaker, blogger, and writer on technical and business topics, Kevin has appeared in multiple print and online publications.
HTML, CSS and JavaScript are quickly becoming the development languages of choice for creating native mobile applications. By using the open source Titanium platform, web developers can create apps for iPhone, Android and Blackberry using a single code base. One of the must attend session this week!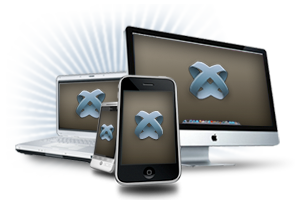 Tell us more about Appcelerator. What's unique about your technology?
Appcelerator is an open source software company based in Mountain View, CA.  Our primary product is Titanium, which allows you to build native applications for desktop and mobile devices using JavaScript, HTML, and CSS.  I'm here at OSCON to present on Titanium Mobile for iPhone, Android, and BlackBerry
How's it different using open source in building your mobile apps?
It's important when building an application to have unfettered access to the framework you are using for those cases when you need to know how specific functions work, or need to extend the platform yourself.  Open source empowers developers to do just that.  In the case of Titanium specifically, we also think it's more productive to use our framework than the tools of multiple different platform vendors directly.
How is mobile different compares to a decade ago? Where do you think it will go in the next decade to come?
Mobile devices today are significantly more capable than ever, becoming essentially mobile computers.  Also, mobile technology is already ubiquitous, and will be more so in the years to come, with developing markets getting access to mobile technology far in advance of other technologies.  I think today we have better devices and technology than ever before, and in the future we will have this technology in the hands of nearly everyone on the planet.  This presents a great opportunity to develop cool software that users all over the globe can leverage from wherever they are.
Which sessions are you most excited about?

I'm really excited to learn more about the Scala programming language.
How's your session today?
The session went well – we had to take a few minutes to get everyone set up, but we had over 100 people attend and as a result got lots of folks up and running with Titanium.
What would be a single take away for the attendees that you want them to gain from your session?
The mobile web is a great tool, and is progressing fast.  But when you need to go native, Titanium is a great (free and open source) option for developing cross-platform apps that still leverage native UI and platform capabilities that make them indistinguishable from their full native counterparts.  And you get to use JavaScript, which is awesome!
Is this your first time being part of Oscon? If not, then how's it different from last year?
Yes, this is my first time, but certainly not the last, I had a great experience.
What's current technology that you couldn't live without?
If someone took my MacBook Pro away I'd probably cry.
To learn more about the product go to http://appcelerator.com And be sure to follow @kevinwhinnery
Be sure to join Girls in Tech Portland Chapter at OSCON 2010 this year at Portland Oregon.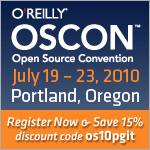 Register now and save 15%. Use discount code os10pgit when registering at: http://www.oscon.com/oscon2010
For More info for our local Portland chapter, go to our facebook page. If you are interested in being a guest speaker and/or panelist for our workshops and lectures, pls feel free to drop me an email: ivo@girlsintech.net
tweet @mssonicflare @oscon @24notion @gitweet
#oscon #portland #opensource