PFW '09: Finale
by Eden Dawn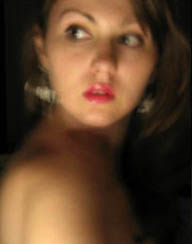 It's the last night of fashion week and the feeling is always a little strange. In some ways it's reminiscent of graduations. There has been so much hard work put in for a brief moment of recognition and then the realization you aren't going to be with the same group of people again. In just five short days I've grown accustomed to driving down to the shipyards and overlooking the river before tromping in my heels to a stripped down warehouse. Then seeing people in every possible genre of clothing ranging from amazing to so beyond hideous it's actually kind of amazing again. I don't want to give up my nightly special front row seat with gift bag perks and compliments from strangers on my writing skills. Basically, I want fashion week to go on forever. Since that is not a possibility and my witty banter cannot go on eternally I took a deep breath when the lights dimmed and turned to the runway for the last show of the year.
A Fortes Design sent their first outfit out to the music of Rusted Root blaring through the sound system and the model seemed to almost dance down to the drum beat. Her hair was in perfect waves and I thought to myself that Sidlab Hair had once again perfected their coiffing behind the scenes. Fortes is a newcomer to Portland from having spent the better part of a decade in New York and her line will be well embraced by the hippie culture in Oregon. Primarily constructed of hemp and cotton the casual dresses with deconstructed elements looked comfy and easy to wear.
Second designer of the night was Melissa Baswell, visiting from Chicago, with her Mountain of the Moon collection. Debuting her spring 2010 collection entitled "Etendue Sauvage dans la Grande Ville" (translation "Wilderness in the City") was about bringing simple shapes into metropolitan wear by thoughtful details. A basic sack dress with contrasting band and bow was charming and a one shoulder little black dress was quite lovely.
Next was Jonano, who produces both women's and children's wear out of organic materials. A diverse collection that included loungewear, dresses, Capri pants and a superbly fit under-the-bust vest offered a wide selection to feast your eyes upon. A simple knit mini provided a pop with pink color blocking and a large leaf screen-print.
Then Ethos displayed their collection all the way from Paris. They use materials that are both organic and free trade to create the largest collection of the evening featuring both men's and women's apparel. A seemingly safari inspired collection that has matured beyond traversing through the wild into roaming through the city. Tailored pieces were the company's strength and a combination of vests and slacks fit like a glove.
Finally was Anna Cohen's Imperial Collection, so called for the collaboration between Cohen and the Imperial Stock Ranch. The eastern Oregon ranch has helped Cohen build a collection that is truly local using fleece from their Columbia sheep that is turned yarns and fibers that Cohen crafts into her on point trends. Her line showcased a beautiful knee length coat with oversized buttons and three quarter sleeves. The stripe print carried throughout was smart and stylish and when made into a sheath dress and paired with a large sweater cape/shrug the texture combination was perfection.
And then it was over. The acknowledgments of the cast, crew and most importantly volunteers went on, but the buzz was declining. The graduation ceremony was complete and whether I liked it or not, it was time to move on….
A FORTES DESIGN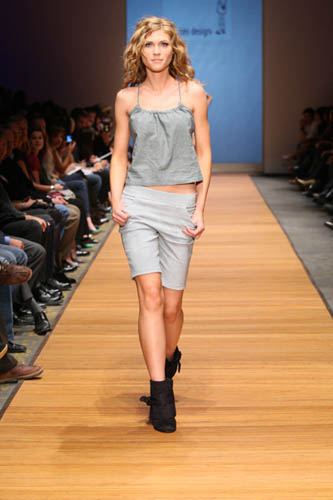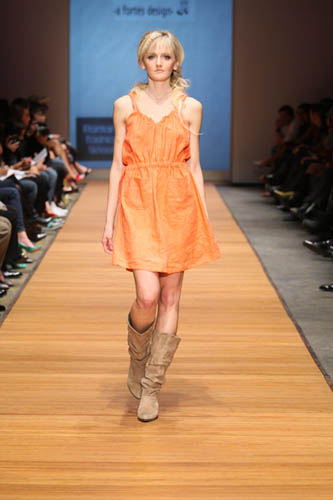 Ed Kavishe/fashionwirepress.com
MOUNTAINS OF THE MOON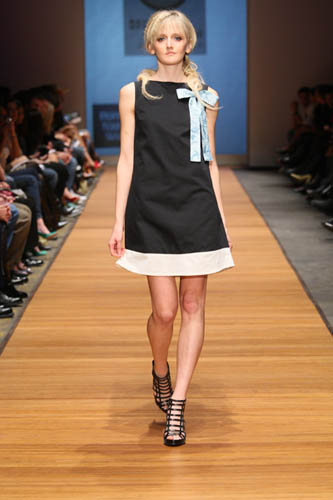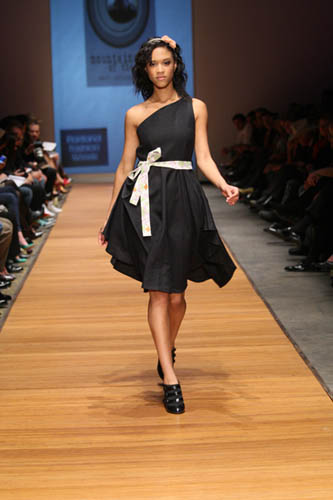 Ed Kavishe/fashionwirepress.com
JONANO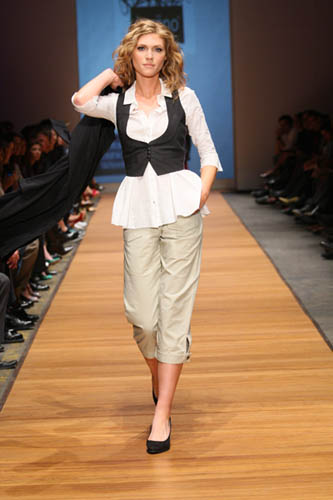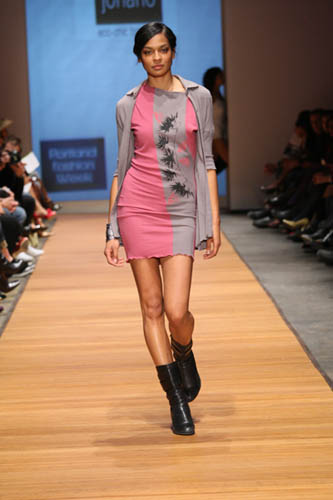 Ed Kavishe/fashionwirepress.com
ETHOS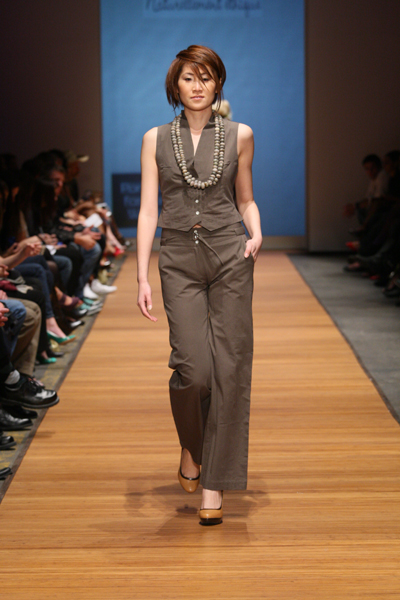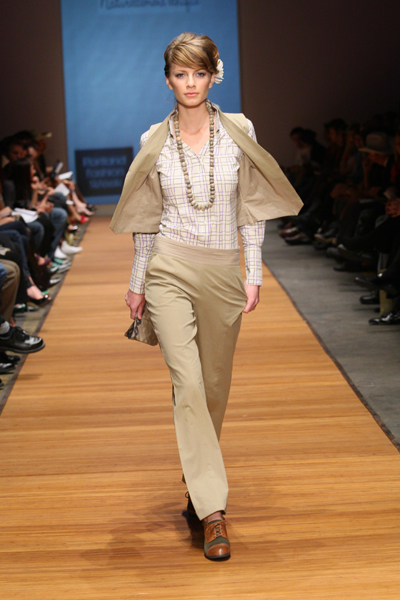 Ed Kavishe/fashionwirepress.com
ANNA COHEN-IMPERIAL COLLECTION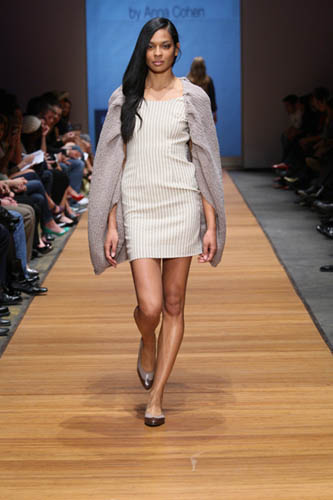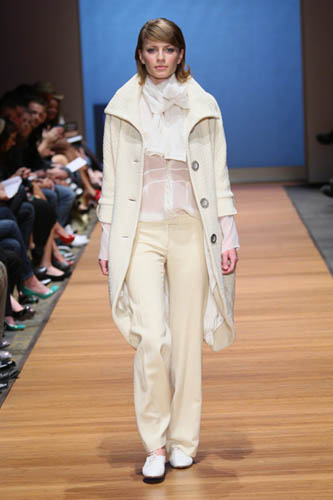 Ed Kavishe/fashionwirepress.com
PFW