PFW '09: Night Four
by Eden Dawn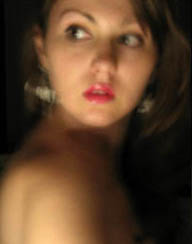 For tickets: www.PortlandFashionWeek.net
Another night, another hyped up crowd and another chance to play dress up. These are a few of my favorite things. Having become adept at somehow effectively moving through an unmoving mass of people (the key is to actually make your hands into a v to part the ways while profusely apologizing) I get into my seat quickly and easily. I enjoy this part, the waiting for a show to begin. The anticipation builds, the people watching is in full swing and you never know who might sit next to. Tonight I have the pleasure of being placed next to opening designer Jason Matlo's parents. His lovely mother told me about Matlo's successful red carpet career creating couture for a number of actresses at multiple events. I even learned what the Leo awards were and while I thought it sounded like something I should be nominated for with my birthday being July 23rd it is actually the Canadian version of the Oscar's. Despite this new knowledge, I still feel as if I should somehow be nominated for one.
After discussing Matlo's attention to detail I was thoroughly amped to see his collection and thankfully as I peered around at the full room I knew it was time. Matlo has a successful studio out of Vancouver BC and has been in business for a decade working on his couture and also churning out ready to wear. We saw a mix of his pieces with a flair for texture using a zebra print throughout and also experienced his love of embellishments. Fit was precise and a lovely draped cowl top with hand applied sequins was perfection.
Next was Mehdi's collection. Designer Mohammad Mehdi based out of Pakistan flew across the world to showcase his work at Portland Fashion Week. A truly international designer his collections are found in Lahore, Karachi, Islamabad, New York, Houston, Miami, Chicago, LA, London, Romania and soon Portland will be added to that list. His designs are from another time and make you feel as if you should be lying around a courtyard, next to a giant fountain burbling while you gently fan yourself in an aristocratic manner. Floating sheers, combined with brocade and trimmings create lovely, theatrical garments. A bridal piece with touches of crimson displayed his design aesthetic marvelously.
Third designer of the evening was PFW regular Lizzie Parker. Parker has a particular ability not to be trifled with and that is her art of draping knits. She works to hug the body in areas that want accentuation and knows best what areas a woman does not enjoy attention drawn to. A strapless mermaid dress with circular satin flounce was a crowd favorite as was a bright orangey-red scoop neck mini with ruffles running down and off the front.
Finally was Jantzen swimwear celebrating its 100th anniversary and highlighting its evolution in design. The runway was empty and there was a brief pause in the music before a decades old commercial jingle came through the sound system declaring "All you need is Jantzen and a smile." Then the parade of bathing suit beauties began. A charming collection of suits and cover ups that put the pieces of string called bikinis today to shame. Standout piece was a s twist on the tankini with pleat detailing, but really many pieces could be classified as stand out.
After the show the air was still festive and the designers wanted to participate. I had a chance to talk with the delightful Jason Matlo and the flirtatious, excited Mohammad Mehdi who both seemed very happy with the show. Well done boys, Portland welcomes you.
MATLO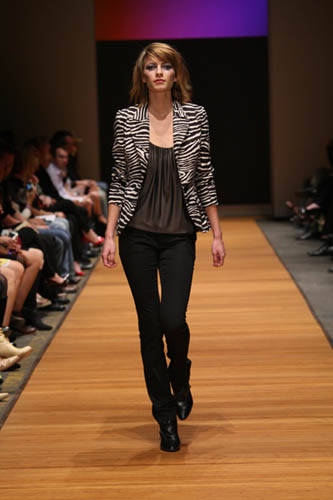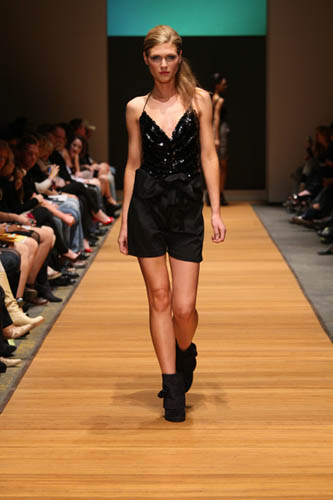 MEHDI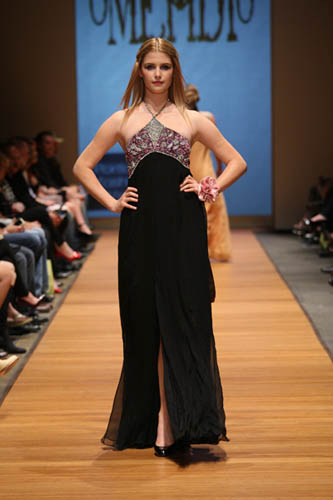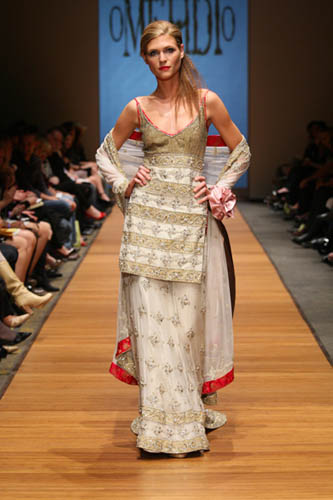 LIZZIE PARKER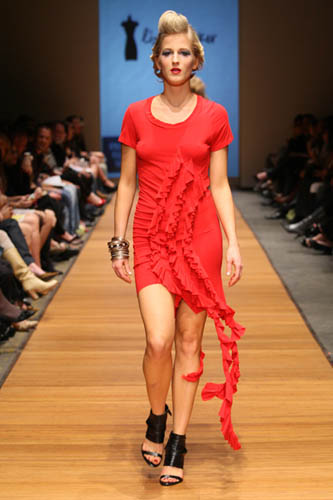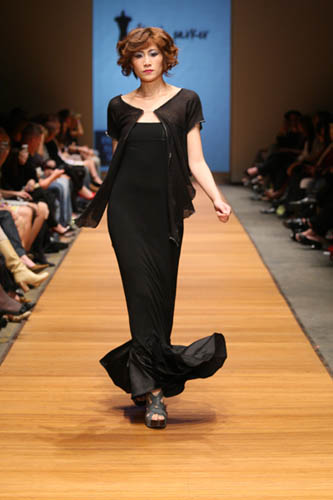 JANTZEN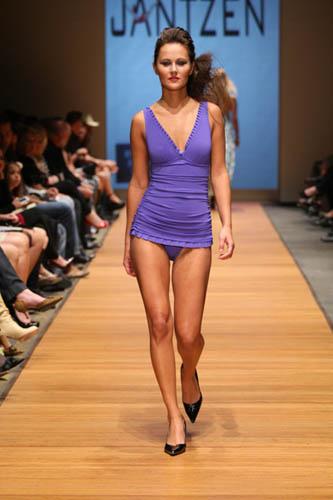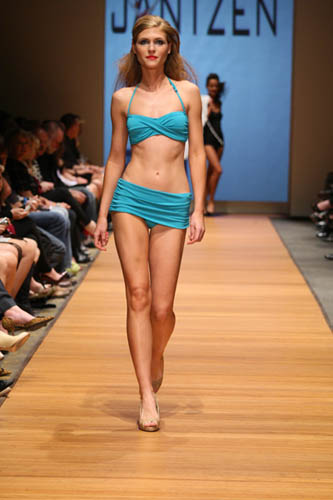 All photos: Ed Kavishe/fashionwirepress.com