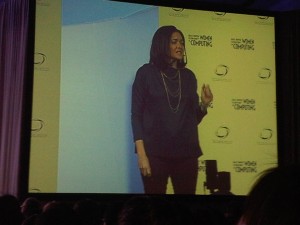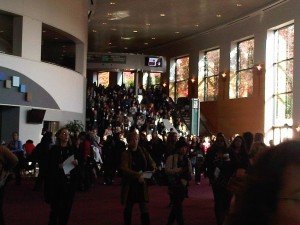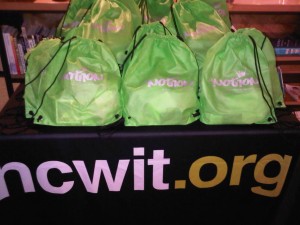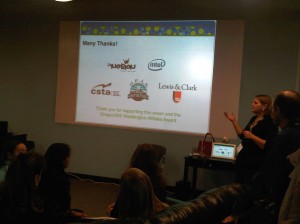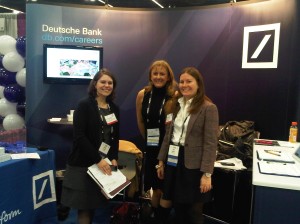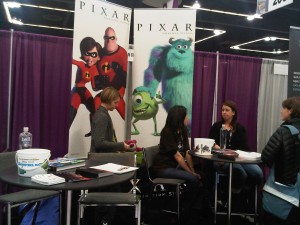 Last week wrapped up the http://gracehopper.org/2011/ in Portland Oregon. 3000 attendees (over 140 companies, 235 academics representations and I would say 90% all women) from all over the world flocked to attend this 4 days conference. What if, is the topic of the conference – It is about creating the next generation to be the leader in STEM/Tech (science, technology engineering and mathematics). Telle Whitney opened the conference by introducing a new initiative by Anita Borg/Grace Hooper "TechWomen" change agent scholars: 6 women mentees (Algeria, Lebanon, Morocco, Palestine and Egypt) selected as up-and-coming leaders who will advance in women's participation in technology and help support more women in their hometown and expand STEM education. TechWomen pairs technical women in the greater San Francisco Bay Area with their counterparts in the Middle East and North Africa for a professional mentorship and exchange program at leading technology companies.
Keynote speaker, Sheryl Sandberg, COO of Facebook gave a career advice for any young woman who wants to move up the ladder in the career of technology:
Believe in yourself
Dream big
Make your partner a real partner
Don't' leave just yet
Start talking about this
The conference sessions range from career, academic, technical, theme and industry track. With Saturday dedicated for an open source day: Codeathon for humanity.
Grace Hopper Aspirations computing awards by NCWIT took place on Thursday night. More than 1200 applicants applied for and top 30 young women were chosen to attend this conference. The Aspirations award is the catalyst that propels young women into studying computer science in college and ultimately pursuing a career in computing and information technology. Event sponsored by Microsoft, Intel, viawest, Lewis and Clark, puppetlabs and 24Notion (shout out to Ruthe F who did an amazing job on the award celeb; did you know that they've granted over 800 girls up to date on the scholarship?)
Career fair and exhibitors from Google, yahoo, Microsoft, NSA, Deutsch bank, Lockheed martin, Amex, Intel, Pixar, Facebook, Twitter and hundred others flocked to recruit the brightest STEM young individual to lead their company. (Did you know that STEM jobs paid 20% more than regular career?).
Leaving the conference energized and excited that at Girls in Tech Mentorship Program, we are here to support and developed the next generation to raise them up the top.  so, what are you waiting for? Get into it!
Follow us @24Notion @MsSonicflare
Like us on Facebook to get free perks!
Check out conference photos here