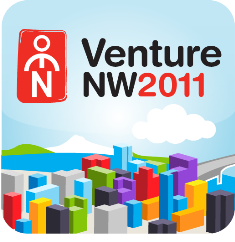 Another successful OEN Venture Northwest this week.  Businesses that have presented at OEN's Venture Northwest have raised over $1,564,490,000 in venture capital since 1996 and $98,546,000 in angel investment (Not all Northwest businesses that presented had investments reported in Venture Source).
24Notion is the proud Patron sponsored for OEN's Venture NW 2011. Check out the digital event site developed by 24Notion. This year's theme: "Destination Opportunity" means Navigate northwest to find treasure at OEN's Venture Northwest. Ten great investment opportunities are waiting for you. Attendees flocked to Venture NW include brilliant business leaders about trends in social media and mobile computing, as well as some leading venture firms are plotting their course to the Northwest to find real treasures.
MotoCyzysz was selected as the People's Choice Winner of OEN's Venture NW 2011. The other presenting companies are Meridian, The Clymb, Pacific Light Technologies, Cloudability, Avado, 4-Tell, OpenSesame, Night & Day Studios, and Northwest Analytics.
MotoCzysz introduces the D1g1tal Dr1ve D1, the world's first fully integrated electric drive system to power the cars of tomorrow. The patent pending D1G1TAL DR1VE achieves an unmatched level of integration never before available, making it the simplest and most complete electric drive solution for any company manufacturing electric vehicles. Quoted by popular science magazine in October 2010: "the most advanced electric motorcycle in the world".
Follow me @MsSonicFlare