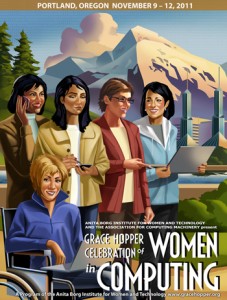 Grace Hopper Celebration of Women in Computing will take place in Portland this year November 9-12, 2011. The conferences designed to bring the research and career interests of women in computing to the forefront. Keynote speakers line up would be Sheryl Sandberg, COO of Facebook and the honorable Shirley Ann Jackson, President, Rensselaer Polytechnic Institute.
4 days of conference with special sessions focus on the role of women in today's technology fields, including computer science, information technology, research and engineering.
Check out daily schedule here. Registration is now closed, as it's a sold out conference. So, follow me @MsSonicFlare for conference updates.
Join our Local Facebook group: Girls in Tech Portland. Check out our Global Girls in Tech Mentorship Program