Despite the meteoric advance of digital technologies, some societal challenges, such as the lack of gender diversity in the tech industry, are yet to be effectively addressed.
The Hack_D_Gap global challenge, launched in collaboration between GSMA's Women4Tech programme and 4YFN, called for startups to come forward and present their digital solutions aiming to reduce the gender gap and promote gender diversity in the tech industry.
Six finalists have now been selected, but it wasn't an easy task! We received some extremely high quality and inspiring applications from startups spanning over 16 different countries, confirming the relevance of this challenge is truly on a global scale.
Following an evaluation by a board of external experts, we are proud to present the sensational six startups who will travel to Barcelona, showcase their product from an exhibition booth in the Women4Tech startup corner and battle it out on our main stage in six weeks' time!
The finalists who will be joining us are:
Come and check out the finalists competing to be the winner of the challenge! See them pitch on the Nestlé stage to a panel of judges on Tuesday 28 February at 11:00!
The on-stage jury, moderated by the inspiring Kimberly King (CSO GlobalTech; Board of Advisors, Wonder Women Tech) will include familiar faces like Gina Tost, Founder and CEO, Geenapp, Alessandro Bogliolo, Coordinator of the Code Week EU, Ivo Lukas (CEO of 24Notion) and others.
In addition to the pitches, you can also meet the finalists in the Innovation Market as they will be exhibiting for the full three days in the Women4Tech's startup corner. They look forward to welcoming you to their booth! Go and say hello, don't be shy!
The three themes for this years' competition were:
Digital Awareness Tools: Solutions that create awareness on gender diversity and gender balance in the tech industry through mobile or digital tools (digital communities, sharing experience platforms).
HR Management Apps: HR Policy solutions that use digital tools to manage and facilitate gender diversity and gender balance in the tech industry.
Work-life Balance Apps: Solutions that create, promote and support custom-made work-life balance practices among employees in the tech industry.
11:00 – 12:00 Hall M8 – Fira Montjuic NESTLE STAGE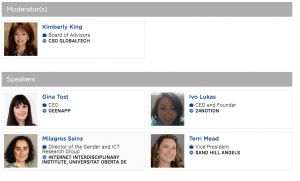 4YFN takes place in Barcelona from 27 February – 1 March.
Follow us on twitter @24notion #24Notion