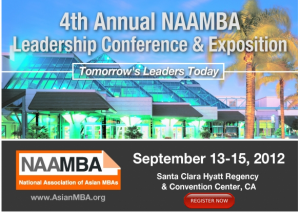 The 4th Annual National Association of Asian MBA's (NAAMBA) Leadership Conference and Exposition is the largest event of its kind in the U.S. and is presenting Emerging Leaders Under 40 award winners including Founder and CEO of 24Notion, Ivo Lukas. The conference theme this year is Tomorrow's Leaders Today, which reflects NAAMBA's commitment to cultivating and developing Pan-Asian talent today to become the leaders of tomorrow. Their organization's core mission is to empower and advance Pan-Asian professionals globally. Through mentoring, networking and professional development opportunities, NAAMBA strives to equip its stakeholders with tools and resources for becoming effective and inspirational global leaders. Slated to become a major initiative of NAAMBA, there is no better time than now to launch Tomorrow's Leaders Today as the conference theme. The conference gives an opportunity for the community to come to the expo and ask the speakers/mentors questions for the next three days at Hyatt Regency level 2& Santa Clara Convention Center 5101 & 5001 Great America Parkway Santa Clara, CA 95054 from 3:50pm-5:00pm. There are many speakers/mentors for this event so be sure to attend so you may have the change to learn from their success. You can meet 24Notion, including the CEO at the Mentoring and Networking breakfast, STEM panel discussions and Gala Dinner & Awards on Friday, September 14, 2012.
SEPTEMBER 14, 2012-Concurrent Professional Development Sessions III – 3:50 pm – 5:00 pm
STEM: Building Top Talent Pipeline for Science, Technology, Engineering, and Mathematics (STEM) Professionals 
STEM-trained workforce enjoys a competitive edge when it comes to career prospects globally. Companies increasingly find themselves competing for best STEM talent for hard-to-fill jobs as STEM talent pool is limited. Growing number of initiatives are bringing to light the shrinking STEM talent pool and the urgent need to encourage more professionals to pursue STEM education and careers to respond to the growing need of developing and acquiring STEM talent.
Expected Learning Outcomes:
Acquire information on the growing STEM fields and the career paths available within these fields. Find answers to questions such as, why are STEM-trained professionals a scarce talent pool. Why is STEM talent shrinking and what can be done to reverse this trend? How can companies effectively build and increase talent pipeline for STEM professionals?
Speaker(s):
Moderator: Thomas G. Zimmerman, Research Staff Member, IBM Research-Almaden
Ivo Lukas, Founder & CEO, 24Notion
Lo Li, Director, Revenue Management Technologies, InterContinental Hotels Group (IHG)
Amy Wong, Director, STEM Integration, Silicon Valley Education Foundation (SVEF)
See you soon! Be sure to follow @24Notion and @MsSonicFlare