Female Empowerment Badass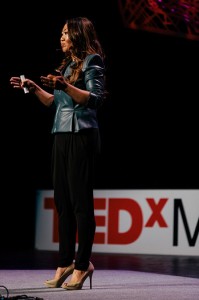 "Be different and make a difference" is how Ivo Lukas describes her decision to follow her dream and embark on her entrepreneurial journey. Having worked in many industries for over 18 years, Ivo has overcome many challenges to establish herself in the world of entrepreneurs. Now she is the founder and CEO of her own company, 24Notion. The company is the first integrated marketing/digital PR and lifestyle agency with an emphasis on giving back to global communities. 24Notion was also just ranked 12th in Portland Business Journal'sBook of Lists in the Corporate Philanthropy category.
Ivo believes being an entrepreneur is about empowering yourself and others to create a business with a purpose. It is about rising to different challenges, overcoming the day-to-day demands, learning, and planning for the future. In addition to building her own business, Ivo has also been working actively to encourage more women to realize their vision and head down the path of creating a thriving and successful business with a social mission.
To this end, Ivo has worked with many nonprofit organizations to focus on the collaboration, promotion, growth and success of women in the technology sector. She has also led a global initiative that expanded throughout the Asia Pacific, European and North American markets and in 2014, she was recognized in "40 Under 40" by the Portland Business Journal.
When asked what she is most passionate about, Ivo said, "leading, nurturing and mentoring the next generation, especially young girls, who are aspiring to be in technology." Ivo is being recognized for her work in this realm as well as her role as an entrepreneur and recently was asked to speak at the U.S. Department of State on empowering women in the Middle East and North Africa through technology as part of the TechGirls initiative created by Hillary Clinton.
At TEDxMtHood on May 2nd as we spend the day in conversation about "roads less traveled," Ivo will share her journey of becoming a TechGirls community builder and a successful entrepreneur.
---
More about Ivo:
On her downtime, she speaks, moderates, and participates in many conversations in the field of entrepreneurship, technology, STEM, start-up, innovation, and women in business.
She loves relaxing at the beach with her husband and son.
She mentors and volunteers her time in many tech, nonprofits, and startup communities
You can find out more at ivolukas.com and follow her on Twitter @MsSonicFlare.