Mayor Sam Adams gave a closing speech at OSCON this year – "Great beer selections, no sales tax; come to Portland, move your family and start your business here". I've had the liberty to sit down with Mayor Sam Adams to chat about tech scene, start ups and a great lifestyle by living in Portland, Ore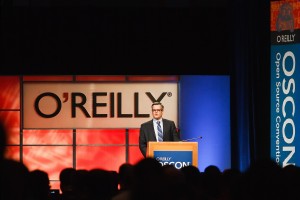 Sam Adams – Mayor, City of Portland, Oregon.
Mayor Sam Adams of Portland, Oregon was elected Mayor of Portland in May 2008. Prior to being elected Mayor, Adams served as a Commissioner on the City Council for four years earning a reputation as a "policy-driven" advocate for sustainability, public transit, transportation planning, the arts, and gay rights. As a City Commissioner, Adams was Commissioner in Charge of Portland's Office of Transportation and the Bureau of Environmental Services, and council liaison to, among others, the Regional Arts & Culture Council, the Association of Portland Neighborhood Business Districts, and Worksystems, Incorporated. In his role as Mayor, Adams is the lead Council member on Economic Development, Planning and Sustainability, Education, Arts and Culture, and Transportation.
During his first year as Mayor, Adams has launched a number of initiatives designed to showcase and provide support to Portland's open source software community. Notably, Mayor Adams and City Council approved the nation's first open source and open data resolution, which places open source software on equal footing with commercial software for purposes of City contracts. Also, Portland recently launched Civic Apps for Greater Portland, which is the nation's first regional open data and open source app contest. Mayor Adams brings renewed focus to developing and implementing plans that will not only keep Portland livable, vibrant, and economically healthy, but will also increase Portland's status as a national leader. He is proud of Portland's open source software community, and he wants to do his part to ensure Portland maintains its reputation as an international hub for open source innovation.
Q&A
Exciting how the city of Portland is hosting OSCON again this year! How's OSCON in Portland this year?
Portland, Oregon is the perfect host city for the open source convention. As a city, we have a wide breadth of un-matched talent; proprietary and open source software development, digital media firms, programming, coding and creative skill-sets. As a city, we are faster, cheaper and more creative. We have to be to compete with the other cities.  We have the quality and value – all in one city.
How has the tech scene evolved over the last several years?. What's next? Where do we grow?
The Portland technology community has been able to take collaborative and open source philosophies to the next level. We've done some creative stuff; from digital development through productization.
Take Civicapps for example; CivicApps is an open data / open source project sponsored by several Portland-area government agencies to promote innovation in the public and private sectors. Currently over 120 civic data sets are available, including geographic, 911, transit, streets, and parks data. The aim is social change. The path is regional collaboration. The focus is local. A cool transportation app that displays arrival times for public transport in Portland, Oregon –PDX Bus—was developed using these public datasets, and it is available on a number of platforms including iPhone, iPod Touch, and iPad
Technology products and services developed in Portland are most appealing to end-users because from the underlying software to the user experience we really figure them out to the fullest–we have high expectations. In the future, we need to focus on delivering value, quality and creativity in the most competitive ways. Portland has the potential be the most creative technology community in the world. We have so much opportunity here!
What's your thought about expanding the women/girls presence in technology in Portland?
I think a mentoring approach is the way to go. We've had success with Rock and Roll Camp for Girls, which is a summer program that helps girls build confidence as musicians and learn about the music industry. That model could be used to help girls learn about other industries –like tech.
What current device/technology could you not live without? iPhone. It's the one source that I rely on to get all of my news, connect with constituents. I tweet a lot, and I rely on a couple of applications for tweeting, including tweet deck. Beyond that I'm a news junky.  I use fluent news, incorporate, dig, and other apps.
Favorite apps? Pdxreporter.
What do you want people outside of Portland to learn about one of the most dynamic cities in the US?
Besides our worldclass beer and no sales tax?  We are a very open city that rewards creative thinking and values innovation.
We seek to be the best place to have both a fulfilling career and a balanced personal life. You really can have it all.
Also, this is a welcoming place and one of opportunity for people who want to make a difference. I am an example—I grew up poor, worked hard in public service, and now I have the honor of serving as Mayor.
To learn more about the city go to http://www.portlandonline.com/mayor/index.cfm
And be sure to follow @mayorsamadams
Be sure to join Girls in Tech Portland Chapter at OSCON 2010 this year at Portland Oregon.
For More info for our local Portland chapter, go to our facebook page. If you are interested in being a guest speaker and/or panelist for our workshops and lectures, pls feel free to drop me an email: ivo@girlsintech.net
tweet @mssonicflare @oscon @24notion @gitweet #oscon #portland #opensource
photo by David Snyder