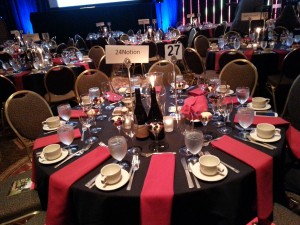 The Oregon Entrepreneurs Network (OEN) held its annual Tom Holce awards event Tuesday night. 24Notion represented as a patron sponsor(4th consecutive years), so we got to enjoy the night and celebrate with the OEN community. Want the scoop on the awards, who won them, and what finalists say sets Oregon apart from other entrepreneurship communities? Read on to find out!
The night opened with a full hour of networking and dinner in the Hilton ballroom. As the program began, OEN Executive Director and President, Linda Weston, presented the Volunteers of the Year Award to Brent Bullock of Perkins Coie and Shelley Gunton of Chez Marie. The spirit of volunteering and helping others was a thread that ran through the whole night. Next, the emcees—Nitin Khanna of MergerTech and Scott Kveton of Urban Airship—delighted the crowd with some laughs and presented the main awards, complete with beautiful video montages of all of the finalists.
Development Stage Company Award
Wildfang is a fashion and lifestyle brand that embraces tomboy style and culture. CEO and CMO Emma Mcilroy accepted the award on behalf of the company, saying that she didn't prepare a speech since winning was unexpected.
Working Capital Stage Company
Janrain is a leading provider of user management solutions, using technology to help clients leverage the Internet. Larry Drebes founded Janrain in 2005 and now, eight years later, the company is recognized in the Working Capital Stage category.
Growth Stage Company Award
Coaxis is a software company that specializes in construction-specific enterprise resource planning for its large client base in the construction industry.  Jay Haladay, the CEO of Coaxis, cited the company's successful implementation as a success factor since "vision without execution is hallucination."
2013 OEN Lifetime Achievement Award
This year's Lifetime Achievement Award honored Paul Gulick, who embodies everything that OEN looks for in candidates: an experienced entrepreneur, an investor, mentor, and philanthropist. Gulick has a strong background in technology and innovation, and is currently on multiple boards of directors and advisory positions with Children's Cancer Association, Oregon State University Venture Accelerator, Northwest Analytics inc. and CompView Inc.
Individual Achievement Award
Mat Ellis, the CEO and Founder of Cloudability, accepted the Individual Achievement Award. Cloudability is a cloud management company that helps clients run lean cloud systems, reducing costs and waste. Ellis hails from the UK but now resides in Portland. He said during his acceptance that it "really says something" about the Oregon entrepreneurial community when two foreigners were accepting awards (the other was Emma Mcilroy of Wildfang).
What Ellis pointed out about the Oregon entrepreneurial community is really unique. The community is very supportive and encouraging—the perfect, fertile entrepreneurship environment. This is why the work that OEN has done—connecting entrepreneurs with networks of support and collaboration—is so vital, and what makes it special.
We never know what the future holds, but one thing is for sure: It's a great time to be an entrepreneur in Oregon!
To learn more about 24Notion, visit www.24notion.tv or email us at info@24notion.tv
Stay up-to-date with 24Notion by following us on Twitter (@24Notion) and Facebook! Follow #oenawards to read the live feed .
Article written by Jillian Toda