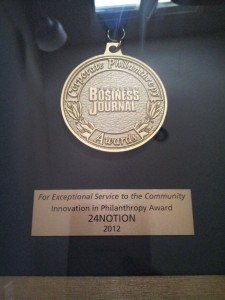 While many mourn the coming of September for its mark of the end of summer, we at 24Notion are anxiously waiting its arrival.  On Friday, September 14th Portland's Downtown Hilton Hotel will get a whole lot of good vibes coming its way, as it hosts Portland Business Journal's Corporate Philanthropy Awards of 2012.  With honorees such as First Federal, Portland Timbers, Nike, Intel, and Cambia Health Solutions, this event covers the span of small, medium, and large companies that play a huge role in our (finally) thriving community.
Along with the sized categories of philanthropic honors, PBJ will also be presenting three companies with the Innovative Partnership Award, in which 24Notion will be a respondent! This is a huge honor for the entire crew and we could not be more pleased to see that not only our hard work and creativity for clients, but also our dedication to giving back in fresh and sustaining ways is gaining notice.
This is not the first time we have been singled out by Portland Business Journal for our philanthropic mindset – we have been ranked 2 years in a row as the 23rd most philanthropic company by PBJ's annual list.  Keep checking back to our blog to see if we make the list for a third year in a row next year.
Tickets for the Corporate Philanthropy Awards are on sale for $65 and everyone here at 24Notion would love to see support during such an exciting day.  Below is the list of Companies that are being honored, 24Notion included!
Companies being honored are:

Small
AdvantisCredit Union
BarranLiebman LLP
Boly:WelchConsulting | Recruiting
CapitalPacific Bank
FirstFederal
PosterGarden
RiverviewCommunity Bank
StollBerne
Unitus Community Credit Union
WashingtonTrust Bank
Medium
Becker Capital Management
Ferguson Wellman Capital Management
KPMG LLP
Lithia Motors Inc
Melvin Mark Cos
Miller Nash
Moss Adams LLP
Pacific Continental Bank
Portland Timbers
Windermere Cronin & Caplan
Large    
Bank of America
Cambia Health Solutions
Intel
Kaiser Permanente
Nike
Pacific Power/ Pacific Power Foundation
Portland General Electric
The Standard
US Bank
Wells Fargo
Innovative Partnership Award
24Notion
S.D. Deacon
Tillamook County Creamery Association
Check back soon for pictures of the event and the low-down of this local star-studded event.  In the meantime, check us out on Facebook, Twitter, LinkedIn and Pinterest see features of the type of things that helped us win such a prestigious award!