Downtown Portland's Elliott Center got a whole lot of good vibes at Meyer Trust's Resource Fair at the Communicating for Good event.  The gathering attracted an amalgamation of impressive non-profits from Portland, Salem, and Eugene –all built from different missions and structures, but all increasingly interested in social media, PR, marketing, video broadcasting, and more.
24Notion's philanthropic endeavors have caught the eye of the Meyer Trust Foundation, as 24Notion was invited to compile a table presentation about what we do and how our services can help the 100+ non-profit representatives that showed up for the event.  We presented next to notable companies like Pagatim and TechSoup in a beautiful outdoor courtyard (taking a few indoor breaks to escape the heat, of course!).   With company cards, a business card raffle for free consultation services, and 24Notion stickers our booth got visits from almost every attendee!
The event included two, hour-long presentations from Amy Sample Ward of Non-Profit Technology Network on Strategic Communication and Social Media and Laura Mansfield of Pagatim on Brave Authentic Storytelling.  Below are the some take-aways from the presentation:
–  Social Media is not about the amount of "likes" or "tweets" you get.  Instead, it depends on what your goal is as a company.  Maybe it is not the amount of "likes" but reaching out to a certain group.
– Stay organized – write down goals, strategies, and social mediums at least every week.
– 1 in 4 people will download a podcast every week, showing we cannot overlook the power of audio sharing.
– While your brain shuts off from visual stimulation from video production, in contrast your brain is stimulated from audio production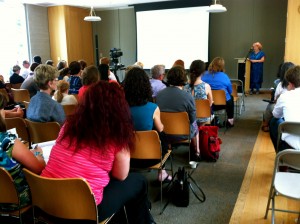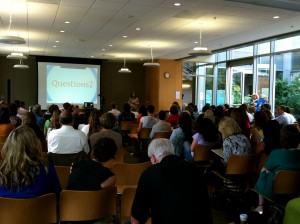 All in all, the event had great food, fantastic people and was a great chance us to show off what we have been working hard on here at 24Notion!  Check back soon for the results of our hour-long consultation give-away from the event and coverage from OSCON at the Oregon Convention Center.
To keep in the loop, check us out on — >