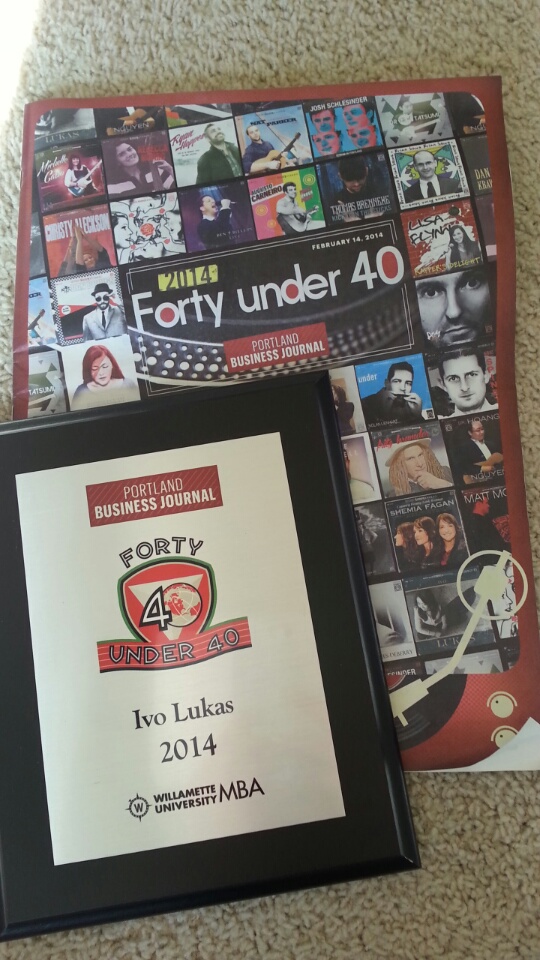 By now, you've probably heard of the 40 Under 40 awards( #PBJ40U40). The Portland Business Journal's annual 40 Under 40 awards event was held on Thursday, February 13th at The Nines Hotel. The night was themed "Top 40" complete with fake album covers for each of the 40 honorees selected. What you didn't know? The class of 2014 includes someone very near and dear to our hearts at 24Notion: our CEO, Ivo Lukas.
Ivo was celebrated along with the other 40 Under 40 honorees, at the awards ceremony and in fun interview videos spotlighting each honoree's personality and interests. Ivo is among other very accomplished individuals receiving a 40 Under 40 award. This year's class was chosen from over 370 qualified candidates. Honorees were selected based on their managerial and entrepreneurial success, as well as their involvement in and contribution to the community.
We are so excited for Ivo, and want to congratulate everyone in this year's class of the Portland Business Journal's 40 Under 40.  Check out some of Ivo's favorite restaurants and her love for 80's music at PBJ.
For more of PBJ 40u40 winner list; photo of album cover ; music video
For more information about 24Notion, follow us on Facebook and Pinterest!
Follow Ivo Lukas @MsSonicFlare or go to ivolukas.com
Congrats, Ivo!!!