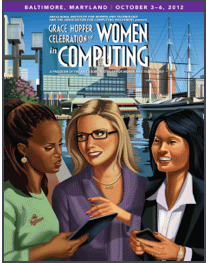 Come join us in attending #GHC12 at Baltimore, Maryland.
THEME: ARE WE THERE YET?
BALTIMORE CONVENTION CENTER
BALTIMORE, MARYLAND
OCTOBER 3 – 6, 2012
A few sessions/workshops to attend:
October 3, 2012: 3:15pm: Career Development Track- How to Optimize Your Job Search
BCC: 327-329
Moderator: Carolyn Strobel (Anita Borg Institute)

Panelists: Dawn Carter (NetApp Inc), Stephenie Harp (CA Technologies), Ivo Lukas (Girls in Tech & 24Notion), Kendra Arimoto (Facebook)
Abstract:  Whether you are looking for your first job or thinking about a career change, come to this session to learn how to optimize your search.  This group of recruiters and hiring managers will discuss the activities involved in a job hunt including: how to engage your network in your job search; searching for jobs online, and what to do when you attend a job fair.  The panel will also discuss what they are looking for when they meet a potential candidate.
Speakers:
 October 4th, 2012: Tech Entrepreneurs Lab; THURSDAY, OCTOBER 4TH | 11:30 AM – 3:15 PM, Baltimore Convention Center
TECH ENTREPRENEURS LAB COMMITTEE:
Elisa Camhort-Page, BlogHer
Angie Chang, Women 2.0
Rupa Dachere, Founder, CodeChix.org
Seema Gururaj, Anita Borg Institute
Sandy Jen, Meebo
Sharon Kan, Babson College
Kathy Kleiman, Esq., Fletcher, Heald & Hildreth
Ivo Lukas, 24Notion & Girls in Tech
Sharon Vosmek, Astia
Follow @MsSonicFlare